Are you ready to take your entertainment to new heights? Look no further than the exhilarating world of trampoline indoor park. These gravity-defying wonderlands have revolutionized the concept of fun and fitness, offering an adrenaline-pumping experience for people of all ages.
Bounce, flip, and soar to new heights as you indulge in a variety of exhilarating activities, from the classic trampoline jumping to obstacle courses, dodgeball matches, and even slam dunk contests. Get ready to soar to new heights!
What is a Trampoline Playground?
A trampoline playground is a recreational facility filled with a variety of trampolines and other exciting features designed to provide a thrilling experience for visitors. These indoor playgrounds are equipped with wall-to-wall trampolines, foam pits, obstacle courses, and other elements that take bouncing to a whole new level. The trampolines are specifically designed to absorb impact and provide a safe environment for jumpers to perform various tricks and stunts. Trampoline indoor playground has gained immense popularity in recent years due to their unique blend of fun and fitness.
Trampoline parks are not just for kids; they cater to people of all ages and fitness levels. Whether you're a child, a teenager, or an adult, you can find activities that suit your interests and abilities. From open jump areas and dodgeball courts to foam pits and slam dunk zones, there's something for everyone at an indoor trampoline park. These parks often host special events and parties, making them an ideal venue for birthdays, corporate team building, and group outings. With their vibrant atmosphere and energetic vibe, trampoline playround have become a go-to destination for individuals and families looking for a unique and thrilling experience.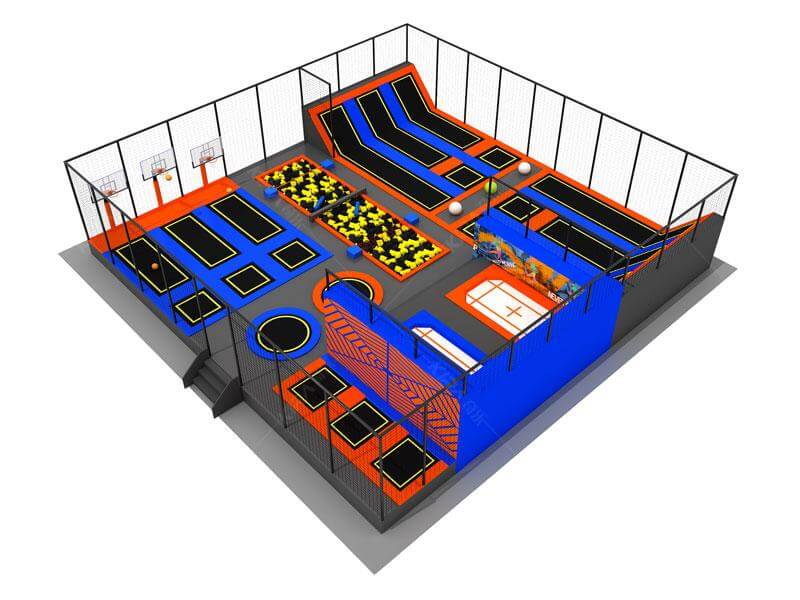 Benefits of Opening an Indoor Park Trampoline
Opening an indoor park trampoline can be a lucrative business venture with several benefits. Firstly, trampoline parks have a wide appeal and attract a diverse customer base. People of all ages are drawn to the excitement and thrill of bouncing on trampolines, making it a popular choice for entertainment and recreation. Additionally, indoor park trampoline promote physical fitness and active lifestyles, which is an increasing concern in today's sedentary society. By providing a fun and engaging environment for exercise, kids trampoline indoor parks contribute to the overall health and well-being of their visitors.
From a financial perspective, indoor park trampoline have a high revenue potential. With a variety of admission options, such as hourly rates, day passes, and membership packages, trampoline park owners can generate a steady stream of income. Additionally, these parks often offer add-on services like party rooms, food and beverage concessions, and merchandise sales, further boosting their revenue. Trampoline parks also have the advantage of being able to host special events and private parties, which can bring in additional income.
Trampoline Indoor Playground vs Outdoor Trampoline Park: Pros and Cons
When it comes to trampolines, there are two main options: indoor playground trampoline and outdoor trampoline parks. Each has its own set of pros and cons, and understanding these differences can help you make an informed decision about which type of park is best for you.
Indoor playground trampoline pros
One of the biggest advantages of trampoline indoor playground is that they are not weather-dependent. Whether it's raining, snowing, or scorching hot outside, you can still enjoy the thrill of bouncing indoors.
Since trampoline indoor playground are not affected by seasonal changes, they can operate throughout the year, ensuring a steady flow of customers and revenue.
Indoor playground trampoline offer a controlled and monitored environment, ensuring the safety of visitors. The trampolines are well-maintained, and safety measures are strictly enforced.
Trampoline indoor playground cons
Indoor trampoline parks are often limited by the amount of available indoor space. This means that the park may have a smaller footprint compared to an outdoor park, resulting in fewer activities and attractions.
Due to their indoor location, these parks rely on artificial lighting, which may not provide the same ambiance as natural sunlight. However, many indoor parks compensate for this with vibrant lighting and colorful decorations.
Outdoor trampoline park pros
Ample space: Outdoor trampoline parks have the advantage of expansive outdoor areas, allowing for a wide range of activities and attractions. This means more trampolines, larger foam pits, and additional features like water slides or zip lines.
Natural ambiance: Outdoor trampoline parks benefit from the beauty of natural surroundings, providing a refreshing and invigorating experience. The open sky, fresh air, and sunshine create a unique atmosphere that cannot be replicated indoors.
Weather-dependent: Outdoor trampoline parks are heavily reliant on favorable weather conditions. Rain, wind, or extreme temperatures can hinder the operation of the park, leading to closures and loss of revenue.
Seasonal operation: Outdoor trampoline playground are typically limited to operating during certain seasons, such as spring and summer. This means they may experience periods of low or no income during the off-season.
How to Plan and Design a Trampoline Indoor Park
Planning and design a trampoline playground requires careful consideration of various factors to ensure a successful and enjoyable experience for visitors.
Research and feasibility study: Begin by conducting thorough market research to identify the demand for an indoor playground trampoline in your area. Evaluate the competition, target audience, and potential revenue streams. This will help you determine the feasibility of your project and make informed decisions.
Location and space requirements: Find a suitable location that offers ample indoor space to accommodate the trampolines and other attractions. Consider factors like accessibility, parking facilities, and proximity to residential areas and other entertainment venues.
Safety measures: Safety should be a top priority when planning your trampoline park indoor playground. Install safety features such as padding, safety nets, and foam pits to minimize the risk of injuries. Develop strict safety protocols and hire trained staff to ensure the well-being of visitors.
Layout and attractions: Design a layout that maximizes the use of available space and allows for a smooth flow of visitors. Consider a mix of attractions, including open jump areas, obstacle courses, foam pits, dodgeball courts, and slam dunk zones. Incorporate elements that cater to different age groups and skill levels.
Equipment and maintenance: Invest in high-quality trampolines and equipment that can withstand regular use and provide a safe bouncing experience. Implement a regular maintenance schedule to ensure the longevity and safety of your equipment.
Amenities and additional services: Enhance the visitor experience by offering amenities like party rooms, food and beverage concessions, and comfortable seating areas. Consider partnering with local businesses to provide additional services such as birthday party packages or fitness classes.
Marketing and promotion: Develop a comprehensive marketing strategy to create awareness and attract customers to your trampoline park. Utilize digital marketing channels, social media platforms, and local advertising to reach your target audience. Offer special promotions, discounts, or loyalty programs to incentivize repeat visits.
Joint with JULE step by step carefully planning every aspect of your indoor playground trampoline park, you can create a unique and exciting destination that will thrill visitors and keep them coming back for more. If you looking indoor playground trampoline manufacturer, JULE can provide all aspects of the whole process of soft play with trampoline.
Discover Popular Activities at Soft Play and Trampoline Park
Soft Play Trampoline Playground offers a wide range of activities that cater to individuals of all ages and skill levels. Here are some of the most popular activities you can expect to find at these parks.
Open jump: The classic trampoline jumping experience is a favorite among visitors of all ages. Bounce to your heart's content on wall-to-wall trampolines that allow for endless fun and freedom of movement.
Foam pits: Dive into a pool filled with soft foam cubes and experience the thrill of jumping and flipping into a cushioned landing. Foam pits provide a safe and exciting way to practice new tricks and stunts.
Dodgeball: Gather a group of friends or join a team and engage in exhilarating dodgeball matches. Use your bouncing skills to dodge incoming balls or aim for your opponents to eliminate them from the game.
Slam dunk: Test your basketball skills on trampolines specifically designed for slam dunking. Experience the feeling of flying through the air as you perform gravity-defying dunks.
Ninja warrior courses: Challenge yourself on obstacle courses inspired by the popular TV show, American Ninja Warrior. Navigate through a series of obstacles, such as balance beams, swinging ropes, and wall climbs, and put your agility and strength to the test.
Fitness classes: Many trampoline parks offer fitness classes that combine cardio, strength training, and flexibility exercises in a fun and dynamic environment. Get fit while having a blast!
Indoor Playground with Trampoline FAQs
When it comes to indoor trampoline playgrounds, JULE leads the pack. JULE designed and built many incredible kids trampoline indoor park across the globe. Here are some frequently asked questions about trampoline playgrouns from amusement customers.
The best indoor trampoline and soft play supplier you can trust
JULE uses innovative materials and techniques to construct imaginative structures tailored to all ages and skill levels. Our creative playgrounds feature interconnected trampolines that form courts, pits, climbing walls, ninja courses, performance areas, and more.
With safety a top priority, JULE trampoline indoor park planning and design adhere to strict quality standards and are professionally installed guidelines. As the indoor trampoline park family entertainment center supplier in China, With experience building over 80 indoor playgrounds, JULE expert team handles every aspect of the process from concept to installation.
Whether you're ready to build an indoor playground and trampoline park for family entertainment, a place to be active, or a venue for competitions and events, JULE as a top indoor trampoline manufacturer delivers world-class indoor trampoline playgrounds that bring fun and excitement to any community.